HERMITAGE HANDMADE FESTIVAL
The Hermitage is hosting its 2nd annual Hermitage Handmade Festival on Sunday, September 10th from 11-4pm . This event is free and open to the public.
SHOP for arts and craft handmade by local artists,
EAT from some of the best food trucks in town,
LEARN about the arts through live demonstrations throughout the day,
and CREATE arts and crafts of your very own with on-site art-making activities.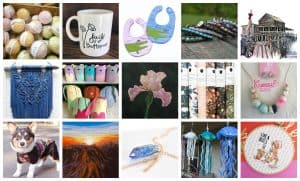 Our Schedule of Events will be posted shortly!
Food Trucks: New York Souvlaki and Capt'n Crabby on site
96X will host the Hangover Brunch on the back lawn that morning from 11-12, followed by live music by Ben Phelps Project!
Parking:
This year we've partnered with Norfolk Public Schools to offer a shuttle bus to the event from the WHRO Studio at 5200 Hampton Blvd. The bus will begin picking guests up from this satellite lot beginning at 11:30 am and will continue every 20 minutes throughout the day with the last drop off being at 4:15 pm. Guests are asked to park in spots marked WHRO and will be dropped off at the front gate of the Hermitage.
Our 2017 Artisans:
23hearts
Acara's Jewelry
Adornments By JO
Akiko Tanaka
Anna V. Freeman Ceramics
Ashley M Smith Art
Bird In Hand Quilts
CausticWear
Clarissa B Design Co
Crafts by Louise
Crystal & Stone Designs
Daniel Goodwin
Davenport Designs
Diane Cory
Kokedama- Dirty Business
Ed Obermeyer
Flutterby Soap Company
Groovy Gems
Gymbohannah
Indigo Salvation
Jessamyn's Whimsy
Jimmy Potters Fairfax
Joyful Glass & Fiber
Kimberly Ann Jones Art
Leocadia K.
Living in Glass Houses
Lost Dog Furniture Co.
Luminosities
Myke irving
NATEJER BOTANICALS
Pawtagonia
Pink Rose Art Studio
Potomac Candle
PrayerMonkey
Shlii Kawaii Toys
Silver Sprig Jewelry
Sophia's Lament
Spare Time Wood Working
Star Whisper
Stitch Culture
Studio 336
The Bohemery Co.
The Thalia Collection
The Vogwen Twin
The Wild Wander
Tree Top Threads
Werrell Woodworks
Whimsical Wonderhaven LLC
Hermitage Handmade is brought to you by:
The Nicholson Companies