Thank you to everyone that helped to bring The Art of Burning Man exhibition to life on Thursday nights this year!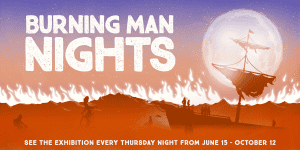 Experience The Art of Burning Man at night along with a variety of interactive programs, temporary art installations, live performances, and more. Encounter something different during each Burning Man Night!
The grounds and museum will be open all evening and Burning Man Docents will be stationed throughout the exhibition to engage visitors. Guests may purchase a drink from the bar while exploring the site. Gates open at 7.
Burning Man Nights design created by Grow | Support comes from the Virginia Commission for the Arts

Learn more about The Art of Burning Man exhibition here