Burning Man Nights
October 12, 2017 @ 7:00 pm

-

10:00 pm
Event Navigation
See The Art of Burning Man exhibition come to life at night!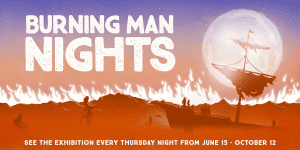 Experience The Art of Burning Man at night along with a variety of interactive programs, temporary art installations, live performances, and more. Encounter something different during each Burning Man Night!
The grounds and museum will be open all evening and Burning Man Docents will be stationed throughout the exhibition to engage visitors. Guests may purchase a drink from the bar while exploring the site. Gates open at 7.
THURSDAY 10/12:
FOOD TRUCKS New York Souvlaki and Stuft- Not Your Average Street Food

CRAFT & JAM STATION BY Obsessive Collective, Ongoing
3 DJ's from the @Obsessive Collective return to spin drum and bass, house, and tech-house while a crew of flow artists provide the visual delights in the form of hoops and dance. Also returning, to provide the tangible delights for the night's festivities is a free Kandy Craft table.
www.fb.com/theobsessivecollective
www.instagram.com/obsessivecollective757
ROAMING MAGIC WITH MAGICIAN HUNTER RHODES
It's time to get '"Magished!" See a live magic show and experience magic right in your own hands! Magician Hunter Rhodes is bringing a fresh dose of magic to the modern generation by helping audiences realize how cool magic is. His innovative approach uses music, comedy, and mind-blowing magic to create a fun atmosphere for anyone. Watch Hunter make strange things disappear and re-appear in stranger places. He can even make someone's head shrink before your eyes! This entertaining show breaks new ground in the magic world and keep audiences wanting more.
https://youtu.be/q9kYmbn1Mcc
https://m.facebook.com/VAMagic/
VISITING INTERACTIVE ART INSTALLATION: A MIGRATION TALE
Ongoing
Experience this travelling art installation as it makes its way to Nevada for Burning Man! Participants can interact with the artwork's mythical figures and learn about their migration journey.
http://www.amigrationtale.com/
PAINTING DEMO with Alxmchl, ongoing
Norfolk Cubist artist ALXMCHL sees extraordinary quality in Neo-Classical art and the works Picasso shared in the 20th century. He seeks to share his art with strangers worldwide.
Instagram: Alxmchlart
RVA LIGHTMAN
RVA Lightman is a "walking, talking sculpture" who creates a shared social environment in which people come together to participate through interactions with the artist. With the addition of video capture, the audience becomes an actual part of the artistic display.
https://www.facebook.com/RVALightman/
COMMUNITY ART
Make your mark by adding a wish or thought to a piece of driftwood that will become an important part of the closing event on 10/14.
While enjoying the bar and exploring the exhibition, add a fresh temporary tattoo to your Burning Man inspired ensemble, show off your hula hoop skills, play a game of giant Jenga, and more!
Tickets are purchased at the gate:
Adult Admission $15
Members, College Students, Ages 6-12, Active Duty $12
Children 5 and under FREE
*No on site parking will be available for this event. Please park on adjacent streets. Disabled parking will be available just outside of the front gate.
Burning Man Nights design created by Grow
Learn more about The Art of Burning Man exhibition here