An Evening with Experts: A Talk with the Conservators
March 22 @ 6:00 pm

-

8:00 pm
Event Navigation
Join expert conservators, Fred Wallace and Tom Snyder, along with Lindsay Neal, Hermitage Curator of Collections, for an intimate presentation in the Painting Gallery as they discuss conservation work taking place on one of the museum's most popular paintings, Rejoice Greatly by Stephen Reid (1922). View the piece up-close as the conservators discuss the fascinating process of treating the painting and its gilt frame as well as how the piece connects to other works currently on view.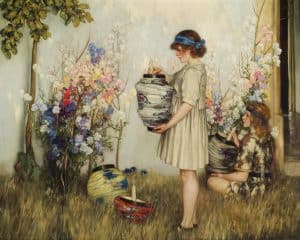 Conservator Bios:
Frederick Wallace, owner and Chief Conservator of Infinity Art Conservation Enterprises (IACE), has amassed a vast wealth of knowledge, skills and experience over his long professional career in painting conservation. Since completing formal academic training more than 25 years past, his conservation work has taken him across the United States and abroad. He has worked at the Cincinnati Art Museum and Mariner's Museum in Newport News, Virginia. His commitment now with IACE is to provide high caliber conservation services to the entire scope of institutions, corporate entities and individuals holding art and other cultural material. Wallace holds a Bachelor of Arts degree from Virginia Commonwealth University in Richmond, VA, and a Master's degree from the Art Conservation Program of the State University of New York College at Buffalo.
Thomas A. Snyder has been a practicing art conservator of wood and gilt wood objects since 2002 after receiving a M.A. in Art Conservation from Buffalo State College Art Conservation Department. He has worked with the Colonial Williamsburg Foundation and since incorporating Williamsburg Art Conservation Inc. in 2003, he has provided conservation services for private clients, museums and historic houses across the East Coast through his independent practice. He is a member of the American Institute for Conservation of Historic and Artistic Works and is a board member of the Virginia Conservation Association.
Space is limited, please reserve your seat in advance by emailing mball@thehermitagemuseum.org
This is a free program but a $6 donation per person is encouraged.
Complimentary wine and beer will be available.
Doors open at 5:30 pm.
View the conservation treatment before the event:
Fred Wallace will be treating the painting in the Hermitage's upstairs gallery, Tuesdays-Fridays, March 13 through March 30, 10am-5pm.  Wallace's treatment will include cleaning the painting's surface to remove dirt, grime and discolored varnish that has accumulated over the years.  He will also give special attention to weak areas on the canvas to reduce future pigment losses and tighten the slack of the canvas.  Tom Snyder, a specialist in gilt wood conservation of Colonial Williamsburg, will join Mr. Wallace on March 22 to treat the gilt frame.
*Please note that the Painting Gallery is on the 2nd floor and is accessible by stairs only.